The CDO's Perspective
Welcome to the next-level of cloud innovation
How cloud innovations are tearing up the digital rule book
The cloud and digital transformation are often seen as the stellar twins of today's business universe. And, like twins, they learn from one another. For example, cloud first appeared as an IT problem quick-fix. Have a lot of not-very-valuable data and nowhere to store it? Put it in the cloud. Got a load of compute-hungry, low-level apps and running out of space? The cloud's the thing for them too.
Cloud's evolution
Those early mindsets have changed now. Over the last few years cloud computing technology has grown and matured, providing strong foundations for digital transformation initiatives. For instance, a business can't operate effectively when the app is in one place and the user is half a world away. That led to cloud edge technology, placing processing power closer to where it's needed, complemented by sophisticated communications networks. Shared operating systems in virtual environments slow down response times. So, containerisation came about, to speed applications development lead times. Compliance issues may arise if data has to live in a multi-tenanted environment because regulatory bodies want certain data to be stored separately. Private clouds thus entered the fray, enabling hybrid multi-cloud architectures for sectors like financial services to engage in new ways with digitally-savvy, always-connected customers.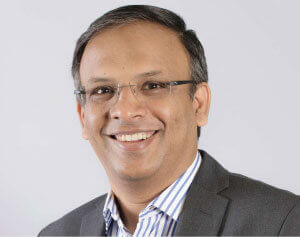 Srinivasan CR
Chief Digital Officer, Cloud & Cyber Security Services
Digital Transformation Head Tata Communications
The next phase of growth for cloud – and enterprises
Now, to extend my metaphor, an extra-exuberant baby brother has joined the twins: DevOps. As the role of IT in propelling business success grows, more software investment becomes inevitable. One need only look at today's hunger for APIs – and the eagerness of suppliers to offer them – to see the truth in that. DevOps in the cloud will see organisations experimenting like never before, taking digital transformation to new heights. I see that as an everyone-wins scenario and, at Tata Communications, we understand and enable such shifts. We also know keeping the business protected against growing cyberthreats is crucial to the success of new digital services.
Overleaf, in our hybrid multi-cloud portfolio for digital transformation you'll find private cloud technology rubbing shoulders with enterprise-grade storage, while container-as-a-service meets big data. That frees businesses to innovate. Take Khimji Ramdas case study for example. Looking to gain business agility while balancing corporate risk, it took a bold leap into the cloud. Or what about Auto & General case study. Aiming to open new businesses in Singapore and Thailand, IZO™ Private Cloud provided the enabling platform. Outstanding success stories like these populate the pages of this book, showing how customers worldwide use our digital technology to drive growth and transform the way they operate and engage with their customers.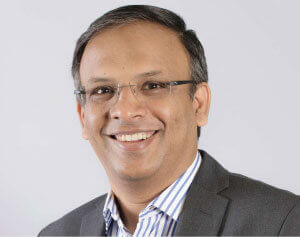 Chief Digital Officer, Cloud & Cyber Security Services
Digital Transformation Head Tata Communications
What's different about digital transformation today is the way business and IT executives are working more closely together, amid growing recognition that technology can't be ignored when aiming to reach and exceed corporate objectives.
That's why we think cloud hybridisation has emerged as the key digital transformation enabler. Because, while digital transformation revolutionises legacy systems, DevOps forms the crucible in which that happens. And true business agility comes from private clouds, public clouds and data centres operating cohesively as an end-to-end integrated architecture.
Those thoughts were front of mind when we designed our hybrid multi-cloud portfolio, to encourage a reinforcing cycle of innovation, leveraging analytics-based intelligence, for a world in which experimentation quickly becomes business as usual.
All your cloud needs, covered
Intended to offer the best of all worlds, our hybrid multi-cloud portfolio is an industry-leading one stop shop for all your cloud needs. Everything in it is digital transformation-ready and always evolving.
Our container-as-a-service revolutionises software delivery and DevOps adoption, and gives your business the agility to outperform the market. Above all, in the Tata Communications world, a self-service management console integrates different IT environments into a single dashboard and offers visibility and control across all cloud resources. It also supervises cybersecurity across the entire IT estate, and provides the ability to mix and match public and private assets in line with business needs.
Our team of skilled and certified professionals provides end-to-end managed services covering architecture, migration, management and optimisation of IT landscapes, saving time and cost.
Transcend borders with cloud
Offering a digital transformation launchpad transcending geographical barriers, our hybrid multicloud portfolio is perfect for multinationals as well as in-country organisations with big ambitions. Already, hundreds of customers have adopted a Tata Communications multi-cloud solution. Not just empowering enterprises across all industry sectors, we're also bringing to life bold plans for digital cities and digital nations.
Unified cloud experience for your business
Solution: IZO™ Private Cloud
The Cloud you can control
Get security, compliance and resilience with IZO™ Private Cloud
Meeting the digital demand
As the demand for digital transformation is being felt across organisations to cope up with the 'new normal' way of working, businesses seek to better engage with customers and employees through innovation and disruptive technologies. And hence, cloud eminently serves as the execution venue for emerging technologies offering businesses competitive operations and customer experiences.
To do that, you should have a cloud strategy which can enable a seamless, secure and cost-effective cloud adoption for your business. Through this, you can not only transform your IT estate to a Cloud enabled platform, you also unlock the opportunity to optimise your existing IT platforms, adopt cutting edge technologies for business innovation, creating new business models etc.
On the other hand, most organisations have some bit of managed hosting or dedicated hosting, couple of legacy systems and then some cloud platforms which creates an IT environment that's almost too complex to manage. At the same time, each of these architectures bring new risks and concerns which require added layers of security solutions to save-guard the IT estate.
If this reflects your own organisation's situation, you need a responsive infrastructure that can integrate existing systems, offers next gen integrated security which is also capable to reduce the attack surface to a minimum by providing granular access controls to isolated segments and be adaptable to your needs. You also need to achieve this without incurring high IT costs — both from initial capital outlays and ongoing resource requirements, along with managing security and management challenges which often become barriers to effective transformation.
Putting you in control
IZO™ Private Cloud gives you complete visibility and control - all through a single platform
IZO™ Private Cloud is a complete platform for managing IT infrastructure and business-critical workloads, delivered through 17 global cloud nodes including 7 in India. With IZO™ Private Cloud, you can:
Host applications which are best suited for Private cloud environment because of application specific requirements or security and compliance reasons.

Perform application modernisation or build new applications using Cloud Containers and Managed Kubernetes services.

End-to-end support for the application migration, executed though 'move groups' based on the interdependencies and application criticality.

Infrastructure refresh or Data Centre wide migration to leverage the benefits of a Cloud platform in the most cost-effective way.
Scale on demand or to support footprint expansion in line with Data Sovereignty guidelines.

Setup highly available Disaster Recovery site with two-way DR and best in class RPO and RTO.

Leverage and build advanced services like data analytics, host compute sensitive applications like SAP S/4 HANA, Oracle DB etc with pre-defined T-shirt based configurations and much more.

Solution: Community Cloud
Keep up the pace
Innovate at speed with the dedicated, compliant environments of Community Cloud
Community cloud
For commercial enterprises or public entities operating in highly regulated sectors, our purpose-built community cloud infrastructures have security and assurance at their core. Meaning you're free to keep pace with innovation - without compromising compliance.
Compliant to range of industry regulations
IZO™ Financial Cloud
Empower next-generation banking services with IZO™ Financial Cloud, a high-performance, secure and compliant cloud foundation that delivers the agility, assurance and resilience to modernise and thrive. Alongside enabling fast deployment of new technologies, IZO™ Financial Cloud ensures business continuity and the smooth transition of legacy workloads, with visibility across your entire estate via integrated and unified controls.
Assured - Robust, managed cloud infrastructure with maximum uptime assurance and geo-resilient, three-way disaster recovery protocol with near-zero RTO/RPO, for high availability of critical applications and workloads.

Resilient - Embedded, high security controls and protections. Compliant to major BFSI industry regulations with relevant certification.

Agile - Adaptable cloud foundation to enable application modernisation and phased new service launches. Supporting open, cloud-native banking through API-driven innovation.
Government Community Cloud
As a MeitY-empanelled service provider, our dedicated community cloud services meet all the MeitY criteria to provide secure and efficient digital solutions to government departments. Built on IZO™ Private Cloud, with IZO™ Cloud Storage, our Government Community Cloud features on-demand infra services and ubiquitous network access, along with an open cloud architecture for the API economy.
All data resides in-country, with node presence in Delhi and Mumbai

Rapid elasticity

Self-service consumption, on pay-as-you-use basis

Choice of OS, hypervisor

Fully managed service, with integrated security and DR