Hosted contact centers are the way of the future
To benefit from this cloud-based service, you must see exactly how it works and how it integrates with your current systems. Then the growth can begin.
1

Why you need a Hosted Contact Center
Why would you want a hosted contact center? What can it do for you? What problems might it solve? This thorough presentation will detail all of that and much more so there's no confusion.
Download brochure
2

Challenges of a Hosted Contact Center
Curious or worried about what pitfalls or vulnerabilities a hosted contact center might bring to your business? This eBook will walk you through all of them and reveal the truth.
Download eBook
3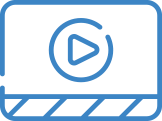 All about InstaCC Global™
Moving your contact center to the cloud? Lean more about our Unified Communications & Collaboration service capabilities and how we can help transform your business.
Watch video
Customer stories: SBI case study
The challenge: To help State Bank of India, India's leading bank, better manage its contact centers worldwide and service its high net-worth individual (HNI) customers
The solution: InstaCC Global™, a pre-integrated, omni-channel contact center solution seamlessly integrated with multiple internal SBI systems, giving customers an exceptional video, voice and web-chat enabled service experience.
The result: Deployed in a record-setting 90 days, the SBI Exclusif platform offers high performance, omni-channel communication between HNIs and RMs in eWealth centers across India—with 200 new wealth-management customers enrolled in the first month!
Download case study